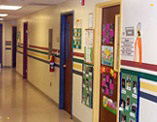 Our purpose is to provide our preschool students with a loving and nurturing environment, working closely with their parents and family to guide their physical, mental, emotional, spiritual and social development.

Ebenezer Preschool provides a preschool experience that will help children become comfortable with and aware of themselves and others. They will learn skills, concepts, and beliefs to help them and develop positive relationships with others. We prepare children for further learning experiences with kindergarten readiness programs.

We welcome children of all faiths while teaching Christ ideals through the curriculum. We follow the safe sanctuary guidelines, therefore; we have a small ratio of Child to Teacher. There will be two adult staff members with your child no matter the attendance amount in the classroom. We adhere to the license regulation of child ratio by age in a classroom.

Readiness for preschool is not always easy to determine before the start of school. Ebeneezer reserves the right to request removal of a student who is found not to be ready for our preschool programs. We will make accommodations to a child's Individual Education Plan (IEP) or a child's Individual Family Service Plan (IFSP).


Preschool hours are 9:00 Am - 2:30 Pm.

We offer Half Day, and Full Day schedules




WE LOOK FORWARD TO MEETING YOU AND YOUR CHILD!